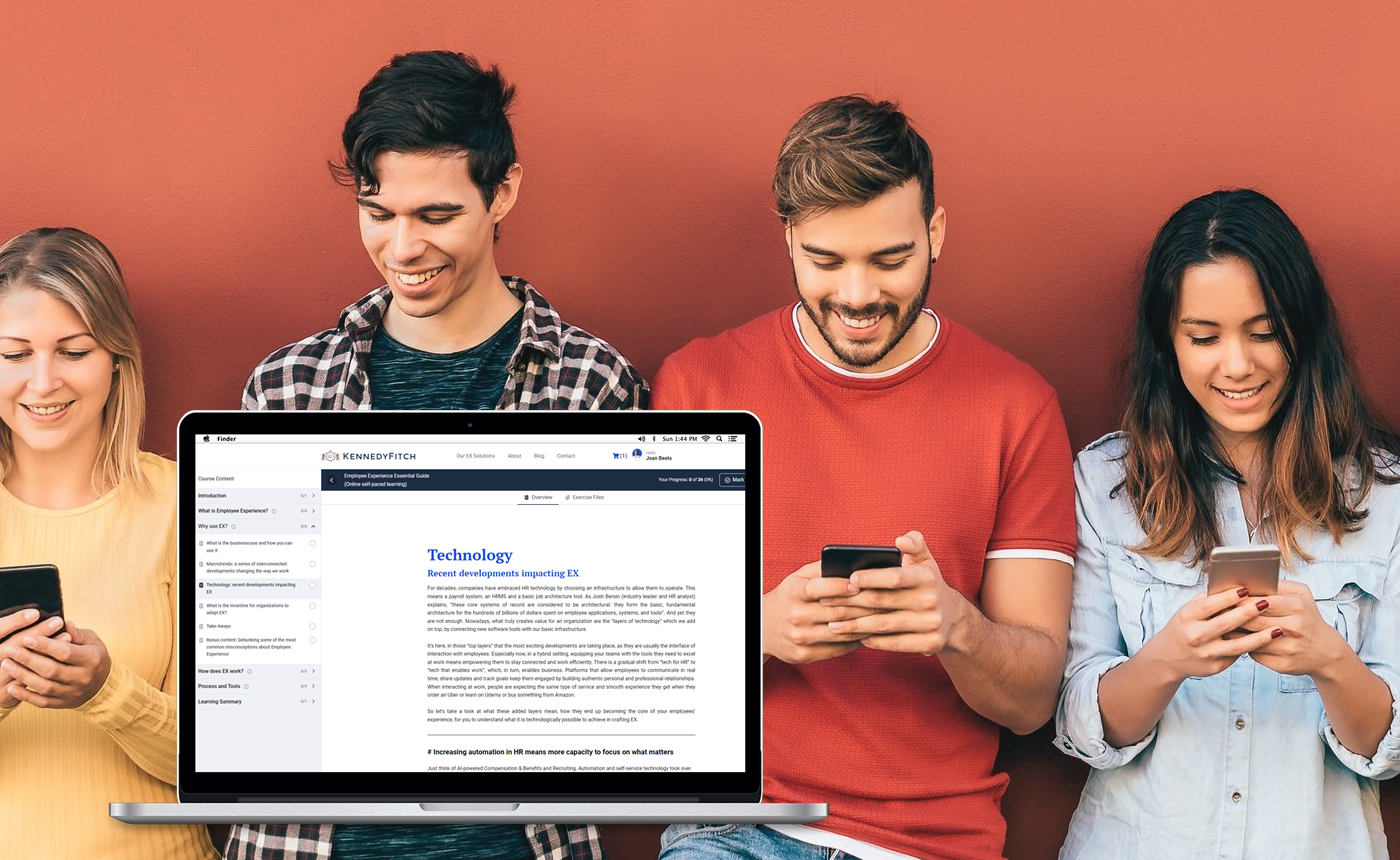 This online course will help you get started with EX at your own pace. You will read about what EX is, how it has emerged in response to the changing world of work and why it's different from Engagement. We also lay out why EX makes good business sense and why it is an important skillset to have, both for individuals and organizations. We will guide you through the key principles of EX and the EX Playbook framework, brought to life with examples from our consulting work.
When done well, EX is able to enhance what people experience at every touchpoint and fuels the creation of services that deeply resonate with your employees. Through this guide, you take a first step into the world of EX and what it means to design bottom-up, human-centered solutions that have an impact. Learn at your own pace and get practical knowledge to apply in your daily work.
Who is it for?
You want to understand the foundations of EX, but don't have a lot of spare time
You are committed to your own growth and you want to explore the EX domain as a professional development path
You are passionate about people and are looking for new ways to contribute to your workplace
This learning is not only for HR people, but for anyone who wants to create services that deeply resonate with people. Do you work in a support function (IT, marketing, comms)? Or are you a passionate leader wanting to do more for your people? Whatever your role or passion, let us show you the EX Essentials and get a taste of a different way of problem solving and innovation.
Course Syllabus
In the syllabus we outlined the basic elements of the EX Essentials course including the topics that will be covered and a preview from one of our bonus content "Debunking some of the most common misconception about Employee Experience".
Format: Online Self-Paced
Start date: Start Anytime
Time: 3-4 hours
What EX is and what it isn't, and what is the origin story of EX
Demonstrate what the business case is for EX, in the new world of work
Present the 3 Key Principles of EX
How to apply the EX Playbook principles to (re)design experiences in your organization
Access to the program for any new updates and contents
Over 3 hours of content in easily digestible segments